Trusted Local Professionals just for YOU
Find Local Pros for all of your projects, it's easy..
Wide variety of trusted companies to choose from
Compare and select the best Local Pro for your project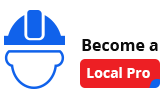 Are you a Local Professional Contractor?
Reach Customers Who Are Looking for Local Professionals.
Let us know what type of work you do and we will send you the customers who are looking for you.
YOU AGREE THAT UNDER THE MAXIMUM EXTENT PERMITTED BY LAW, WEMA WILL NOT BE LIABLE TO YOU UNDER ANY THEORY OF LIABILITY. WITHOUT LIMITING THE FOREGOING, YOU AGREE THAT WEMA SPECIFICALLY WILL NOT BE LIABLE FOR ANY INDIRECT, INCIDENTAL, CONSEQUENTIAL, SPECIAL, OR EXEMPLARY DAMAGES, LOSS OF PROFITS, BUSINESS INTERRUPTION, REPUTATIONAL HARM, OR LOSS OF DATA (EVEN IF WEMA HAVE BEEN ADVISED OF THE POSSIBILITY OF SUCH DAMAGES OR SUCH DAMAGES ARE FORESEEABLE) ARISING OUT OF AND IN ANY WAY CONNECTED WITH YOUR USE OF, OR INABILITY TO USE, THE FIND LOCAL PROS PLATFORM OR SERVICES. YOUR USE OF THE FIND LOCAL PROS PLATFORM, INFORMATION, OR SERVICES IS AT YOUR SOLE RISK.