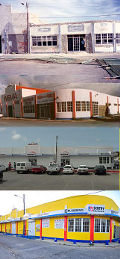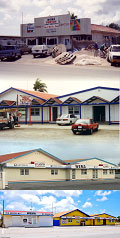 Company profile
WEMA Home & Hardware was founded in 1982 by Mr. Karel E.O. Wever as a sole proprietor, at Bernhardstraat 134, San Nicolaas, Aruba. Together with his first wife, Mrs. Evelina Wever-Geerman (+1982 – 2000) and a small group of employees, this store proved to be what the market needed, as it was the only self-service hardware store in the area at the time of moreover the only hardware store open on a full day on Saturday.
During the years, WEMA has grown from being a small hardware store in San Nicolas, to a market leader company in Power Tools, Hardware, Paints, Housewares and Fasteners. With three locations strategically situated in the districts of San Nicolas, Ponton and Santa Cruz. Also, lately with an addition of a Rental & Repair Service Center adjacent to its Ponton store. On November 18, 2011 WEMA has ventured out to its other sister island Bonaire. This store has everything you will need, to paint your home. It is situated at Caya Princess Marie 4.
WEMA has presently about 40 thousand items in stock but with the partnership of its main US supplier "Orgill Inc.", which can tap into its vast product lines of about 65,000 items, which can be special ordered.
WEMA Home & Hardware Center N.V. continues to grow, and recently ventured into the lumber business with qualified "green" environment friendly lumber. This lumber is treated according to the US specifications, which means lumber without Cadmium and Arsenic. WEMA will keep moving forward in order to maintain its lead in the hardware business and to slowly but surely gain market share in the building materials market.
WEMA during the years has showed fortitude in hard times and know how to surpass all difficulties that appeared before them. The slogan: "Nos A Bin Pa Keda" (We Came to Stay), kept prevailing years after years and will keep prevailing for the years to come.
Mission Statement
WEMA is the knowledgeable, preferred, local home-, hardware- and construction materials provider for companies, professional users and private customers, whose friendly team of professionals strives to exceed the customers' expectations by providing quality products, professional advice and solutions.
Vision Statement
To provide optimal service and the best home improvement, hardware and construction material solutions, while maintaining high standards quality at reasonable price.