WEMA Loyalty Card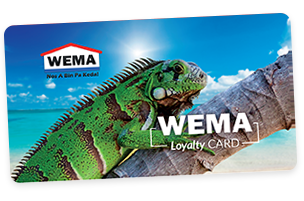 Being Loyal always pays off, More Loyal More Points More Rewards
What is WEMA Loyalty Card
WEMA Loyalty card is a reward program where you can earn points by purchasing at WEMA.  Being loyal is always rewarding and with the WEMA Loyalty card you can enjoy all the benefits that comes with it:
*Points earned will be converted into florins where you can redeem at any of our stores.
*Instant savings right in the store
*Special offers and promotions
*Money saving coupons
*Invitations to new launches and special events
FAQ
Is WEMA loyalty card free?
There is no cost for Signing up and the card is FREE.
How to get a WEMA loyalty card?
Visit us at one of our stores and sign up at the customer service, and enjoy earning points right away.  Fill in the sign up form and pick up your card at your chosen store within 48 hours.
How do I earn points on my card?
Whenever you make a purchase at one of our stores, hand the cashier your card at the beginning of your transaction and the points will automatically be added to your balance at the end.
Is my point ready to redeem the same day?
Then next day your points are available to use at any of our locations.
Do I need to carry my card with me at all times?
Good news, in case you do not have your card with you, the cashier could always pull up your information, by cell phone number, name or last name. Advice, take a picture of the back of the card where your account number is. That is an extra way to get your account at the cashiers.
How do I redeem my points?
After your purchase the cashier will ask you if you want to use your points to pay, just say yes and you are done.
How do I know how much points I have on my card?
There are two ways for you to find out how much points you have on your card. 1. Call any of our stores and give them your loyalty id. And they will give you the information. 2. Visit one of our stores and let the cashier or the customer service scan your card and he or she will tell you the amount of points you have.
Will my WEMA Loyalty card ever expire?
The WEMA loyalty card does not have an expiration date, however if the card is inactive for 2 years the account will block automatically. It is important to use your card at least once every 2 years.
If I lose my card what should I do?
In case you lost your card, don't panic. Call us and let us know. We will create a new card for you. Administration charges of 5 florins for each additional card are applicable.
If I have another person's card, can I transfer their points on my card?
It is not possible to transfer points between members.
Can I earn points on Building Materials?
YES, that is the beauty and the best benefit from the WEMA Loyalty card; you earn points on EVERYTHINGJ